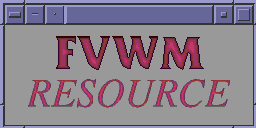 Home | Themes | Submit | Documentation | Links | Resources | About Us | Sitemap |



Why have a website about Fvwm? Well everyone needs a window manager. Unless of course your a diehard never open a single graphical program sort of person. Which is almost impossible these days. Window Managers are available in a mind-boggling variety now, which adds to the confusion. Fvwm is the most functionable and customizable "tiny light fast" manager, and its the smallest, and fastest "super-functional" manager. Fvwm isn't just a good compromise between function and performance, its a well thought-out and carefully maintained program. ...and its free.

Fvwm is open source. If your not familiar with GNU and the Free Software Foundation you should take a moment to read about it. Free software has far more advantages then simply keeping an extra $50 bucks in your wallet. The majority of this website is also covered under the GPL, refer to our copyright policy.

How is this site produced and maintained? With GPL (free) software of course. Have a handful of click through buttons to software and other services we use.





---


Questions or comments? Email us here: The Fvwm Resource
Copyright 1999 The Fvwm Resource